Well At last ... The moment you've been waiting all year for has almost arrived.
A1's new album, 'The A List', is released on Monday (November 20th).
Jam packed with 15 fantastic new tracks including the 2 UK number 1's, 'Take On Me' and 'Same Old Brand New You'.
The album is an eclectic mix of
R & B raunchy funked-up tracks ballads
and is a must have for any A1 fan!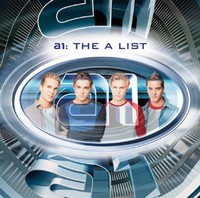 What r U waiting for ?
Go out and buy it promptly IMMEDIATELY
And certainly, U can get the Lyrics of " Take on me " " Same old brain New U "
Or www.lyrics.co.nz/ to find more lyrics of the all the bands : from A to Z

The sound :


HELLO...HERE'S OUR FORTHCOMING 7TH SINGLE.
IT'S CALLED "NO MORE"
CD 1
1. No More
2. Three Times A Lady
3. I'll Take The Tears (Live from the a1UK2K Tour)
CD 2 (Limited with poster)
1. No More - Rip Rock N Alex Mix
2. No More - E Smooove Mix
3. Livin' La Vida Loca (Live from the a1UK2K Tour)
CASSETTE
1. No More
2. Three Times A Lady
1.  animation pics
2.  Real Video
No More - Behind the Scenes
Following the No.1 success of 'Take On Me' and 'Same Old Brand New You', the first 2 singles from the platinum selling album 'The A List', a1 are ready to release there first single of 2001. 'No More' will be released on February 19th 2001 and is shaping up to be a1's third No.1 single from their critically acclaimed 2nd album.
Ben, Mark, Christian and Paul have just returned from another visit to the Far East where they shot the video for 'No More' in Singapore. On their visit to Singapore, the boys had to learn martial arts, how to drive speedboats and also w to deal with dodgy food - Christian had a severe case of food poisoning from the local produce.
a1 have also just had their first taste of notoriety as songwriters after being asked to submit two songs for the next Michael Jackson album. Both Ben and Christian have been writing songs with Ray Ruffin (Son of legendary singer songwriter Jimmy Ruffin) who is so pleased with the results that he has asked the boys if they would mind if he submitted these tracks for consideration. Ben, who is a life long fan of Jackson's said "It is a huge honour for us to even be considered for an album by the 'King Of Pop' himself". "We didn't set out to write a song for him but Ray feels that the songs are perfect".
Following the success of last year's national tour, 2001 will almost certainly see a1 performing an Arena tour in late summer. The boys enjoyed touring with their material live more than they could have imagined and can't wait to get back out on the road again to give the fans an even bigger slice of the a1 magic that made them one of the best live pop acts of last year.
'No More' is another fantastic pop cut with r&b attitude and thumping basslines which was recorded in Los Angeles with Cueni & Ben Susen, who have worked previously with acts such as Tupac, En Vogue and Christina Aguillera.
'No More' - Released February 19th
________________________________